Knife Ganzo G7533 (Black, Green, Orange) reviews
---
Daniel
December 23, 2016 17:47

Great little knife with a fantastic blade shape which is perfectly centred and has a lovely titanium colouring
The handles are a nice grippy G10 in a great olive green colour which looks great against the blue hardwear

Really, really like this folder
---
Ganzoknife.com
December 27, 2016 14:45

Hello Daniel! Thanks for your nice comment. G7533 is a versatile practical knife, which is suitable for tourism and outdoor activities. Thanks for choosing Ganzo!
---
Joshua
December 14, 2016 13:45

This knife has become one of my favourites. The ergonomics are good and it is well built. The design and color combo is good as well. The blade coating has held up well.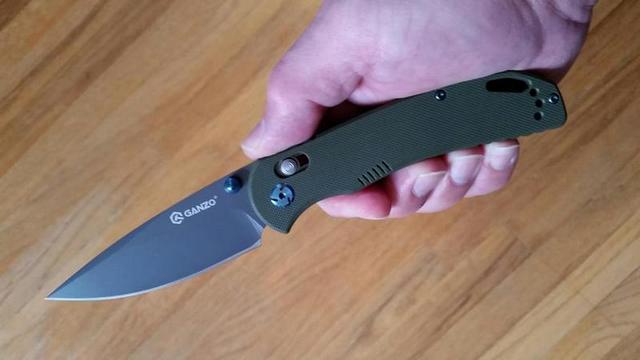 ---
Ganzoknife.com
December 20, 2016 14:49

Dear Joshua! Thanks for your positive feedback! Nice to read such a good words about our knife.
---
Andrew
October 4, 2016 16:49

WOW! This item exceeded my expectations! I'm very happy! Highly recommended! You will not be disappointed.
---
Ganzoknife.com
October 6, 2016 16:39

Hello Andrew! Thanks for such a good comments about G7533 model. This new knife is absolutely great, so we also recommend it highly!
---