Knife Ganzo G7501 (Black, Green, Orange)
Knife F7501 Description
Company Ganzo increasingly presents to the public a new range of knives. One such innovations is the Ganzo 7501 knife. This model has a comfortable and very convenient design of handles and blades, and through the use of high quality materials, this knife is equally effective in both urban and field conditions.
The blade model G7501 is made from 440c stainless steel specification, and designed in the form of clip-point. Around the base of the blade you can see engraved a "fiery" symbol and a "Firebird". This engraving design not only looks good for decorative purposes, but such symbols are denoted by all blades that are included in a new line of "Firebird".
Knife handle has a composite lining made from high-strength polymer material, G10 and can be painted in one of the three standard knifes Ganzo colours (black, dark green or orange). An interesting feature of the handle are the luminescent inserts in the form of three small bright-green stripes. Strips inserted on both sides of the handle when installing standard clips are not hidden but stand out. This feature allows you to find the knife even in pitch-dark, because bright green inserts illuminate very well in the dark.
Also, at the end of the handle is a lanyard hole that allows you to dock the knife in the most convenient place for you.
As locking devices, the G7501 knife uses an G-lock. This locking mechanism allows you to securely locking the blade in position and does not allow the blade to spring out even under intensive loads.
A modern, stylish design, called Fast Castle together with its compact dimensions, make the Ganzo G7501 knife a perfect choice for everyday use. And thanks to the materials used, its build quality is guaranteed. The G7501 will serve you long term and help solve even the most complex tasks, wherever you are.
Features:
knife has a folding design
open knife has a length of 210 mm
the blade of the knife G7501 has length-89 mm
blade thickness at the butt is 3.3 mm
blade made of 440 c steel
blade hardness is at level-58 HRC
the total weight of the knife is 130 gr
| | |
| --- | --- |
| Knife Type | Folding |
| Lock Type | G-Lock |
| Blade Edge | Plain |
| Point | Clip Point |
| Blade Material | 440C |
| Blade Color | Gray |
| Handle Material | G10 |
| Handle Color | Black, Green, Orange |
| Total Length, mm | 210 |
| Blade Length, mm | 89 |
| Blade Thickness, mm | 3.3 |
| Knife Weight, g | 130 |
| Warranty | 1 year |
Knife Ganzo G7501 (Black, Green, Orange) reviews
---
Thomas Briand
04/27/2021
09:19
Hi, I bought one of these but I received the F7501. I don't find this model on your website. It's a little bit different...without the 3 green lines. Is the F7501 a new version of the G7501 ? Same specifications and same design. The axis lock is a little bit hard but it works well. Thx
---
Hello, You received F7501, it`s an updated version of G7501 without the 3 green lines.
---
I bought this model online in orange. Edge angle is a reasonable 30 degrees. The blade is really easy to sharpen and holds its edge for a long time. Absolute bargain for the price! Get me a G720 next. Keep up the good work, guys!
---
Hello Chris! Thanks for your feedback. G7501 is definitely practical and reliable model with stylish design. Thanks again for your comment!
---
J.J. Duran
03/29/2019
03:01
I haven't got one yet but I've seen many good reviews I recently bought a kuby knife and I was going to start getting my knives from there and then I decided that I would move to this company and check it out right now I only have $20.00 though so I'm going to do some chores and try to work my way up to get one I will be back in the future telling you how my nice was once I get it!
---
Materials used quality is very good, design and finish of the blade and sharpness is excellent, assembling of the parts is flawless, handle design is great, overall it's so good (as my other Ganzo's) knife that I've became fan of Ganzo knives. Keep on good work!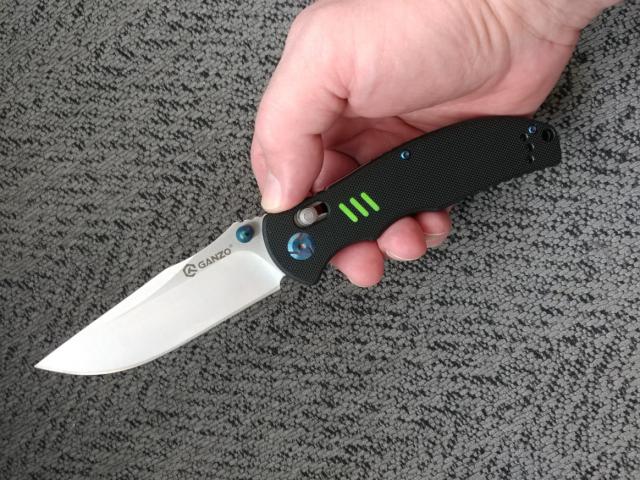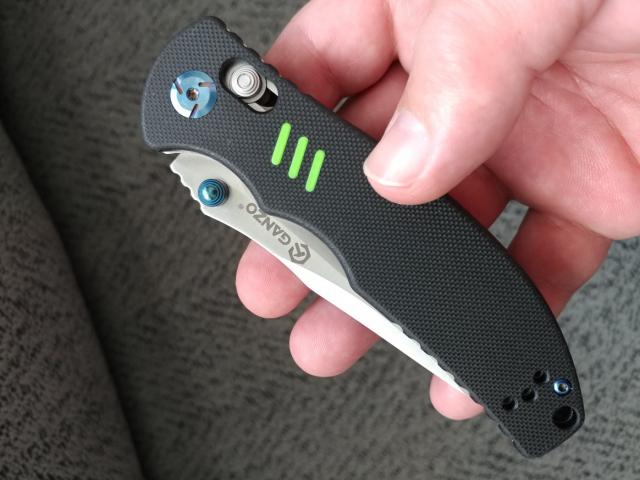 ---
Dear Daniel! Thanks for your feedback and interest to Ganzo company. Nice to know that you like our knives. Enjoy your Ganzo!
---