Knife Ganzo G7393 (Orange, Black, Green)
Description of Ganzo G7393 Knife:
G7393 has the dark blade, that makes it more tactical, because it excludes possibility of blinking under the sun. Stylish and practical in using - G7393 provides progressive conception for creative persons who seek to self-expression.
High-quality hard steel 440C is used for this knife. It's hardness is 58 HRC and this metal remain sharp for a long time after being sharpened, but still it can be sharpened with high-quality in the field conditions. 440C steel is enough to be wiped dry to prevent corrosion after using the knife.
The handle of every Ganzo 7393 knife is covered with straps from G10 fiber-glass plastic. This is a modern composite material with high wear resistance and ability to withstand exposure to many chemically active substances. Four color options for handles are available to choose: black, orange, swampy-green. Also, the producers thoughtfully placed a clip to the handle to fasten the knife to the belt and a hole for threading the lanyard.
Characteristics:
Knife design – folding;
The knife is made of steel 440C;
Color of blade - black
Blade length of 8.7 cm;
Metal hardness about 58HRC;
The handle is made of a material G10;
G-Lock;
Knife weighs - 135 grams.
Warranty period is 1 year from the date sale of the item.
| | |
| --- | --- |
| Knife Type | Folding |
| Lock Type | G-Lock |
| Blade Edge | Plain |
| Point | Drop Point |
| Blade Material | 440С |
| Blade Color | Black |
| Handle Material | G10 |
| Handle Color | Black, Green, Orange |
| Total Length, mm | 205 |
| Blade Length, mm | 87 |
| Blade Thickness, mm | 3.3 |
| Knife Weight, g | 135 |
| Warranty | 1 year |
Knife Ganzo G7393 (Orange, Black, Green) reviews
---
Nice size , one of my favorite after the 720, really smooth opening and really sharp;
make his job real good.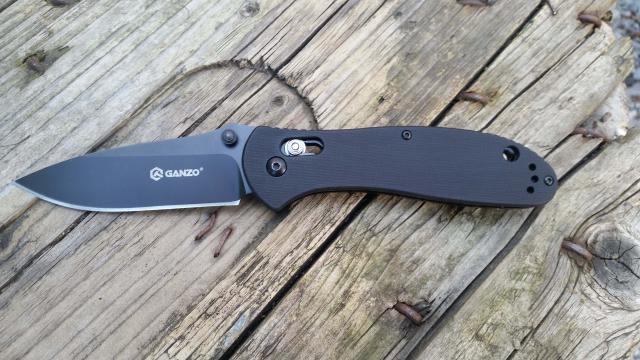 ---
Dear Anthony! Thanks for your feedback and sharing your experience! Continue to enjoy Ganzo!
---
All my Ganzo purchases have been good, excellent budget folding knives. great gift for someone starting out or if you just want a honest everyday user knife. i will keep on buying new models that take my fancy as they issue new ones.
---
Hello Kenneth! G7393 is a great model at affordable price. Hope you'll like how it works. Thanks for choosing Ganzo!
---
Patrick Earthridge
06/30/2019
04:07
Absolute best quality for the price, I have ever seen. I had the green handled type for well over a year, and just today it got stolen. Im not too bummed about it, since it's cheap enough to just buy another. I work at an auto parts store, and I used that knife every day cutting boxes, packages, prying and generally abusing it. Dropped it tip first onto concrete, and I was able to repair the edge. Held sharpness for a long time, has perfect balance and heft, feels like a $150 knife, etc. Absolutely love it. It's a bummer it isnt sold on Amazon anymore, because I want another green one just like I had. Or, maybe I'll try a new one.
---
Dear Patrick, thank you a lot for your feedback!
---