Ganzo G727 very cognate to Ontario Rat. But here is not so many similarities as you can think. This Ganzo-model has a slightly smaller dimensions and a different type of lock.
The total length of the knife - 21 cm and a blade length - 8.9 cm. In comparison with the original, replica is a little less. But it does not affect on the convenience in working with knife.
Colours: Ontario has more colours, but Ganzo has 4 the most popular variants: orange, black, green, camouflage.
Now about the details, where lies the difference. Ontario has the Liner Lock while Ganzo is proud of G-Lock.
Both blades have lanyard hole. Scales are attached to dies by screws, also, you can see that Ganzo has less screws. But, even because of this, we can't say that rigidity of the handle design has decreased even a little.
For more comfortable working the thumb ramp is located on the spine of the blade. Ontario has the thumb ramp wich is oriented toward the handle while Ganzo has the symmetrical one.
Both of knives have aeneous spacers on the G-Lock. Ontario clip can be placed in four positions, but Ganzo has two stances of clip.
Steel blade in both cases - stainless (Ganzo - 440С, Ontario - AUS-8). Blade thickness: Ganzo - 3.5 mm, Ontario - 3 mm. Slopes of both knives come from the spine.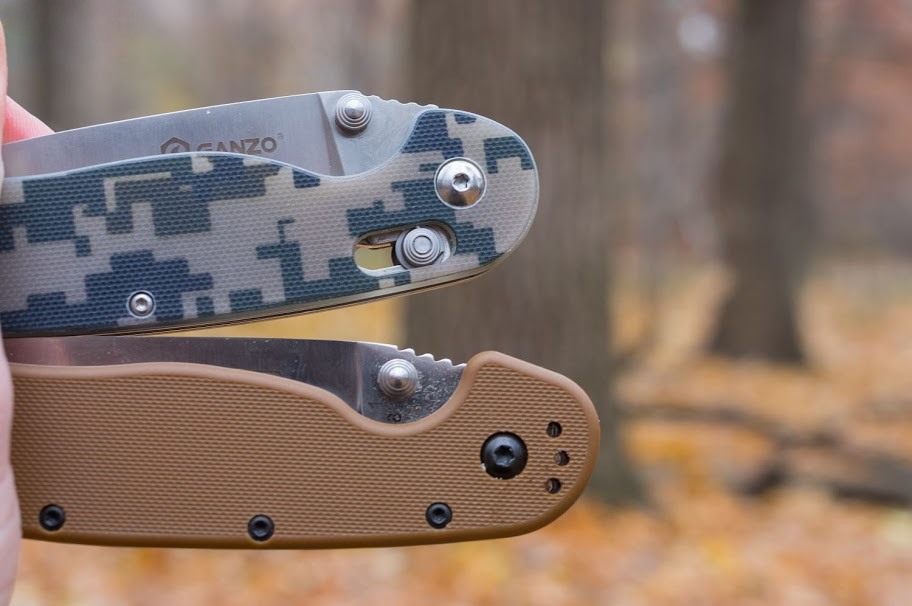 G727 model is an interesting alternative to Ontario Rat. Similar design with different color solutions of handle make it very attractive. Considering the price (it is almost 2 times lower than the original), Ganzo 727 - really great decision!