Ganzo has succeeded in creating practical EDC knives for the needs of active users. Compact models are most often used in tourism and in various other types of outdoor activities. The knives are durable, they have a thoughtful and comfortable design, which is designed to be comfortable in all conditions. In addition, the Ganzo models are lightweight, sturdy, and will withstand all sorts of impacts during use. The steel for such knives is wear-resistant, protected from rust, the handle is based on the most reliable and high-quality materials, such as, for example, G10 fiberglass. Manufacturers supply knives with quality blades that are versatile and suitable for a wide variety of jobs.
All this can be attributed to the Ganzo G7531 model knife. It has already been appreciated by discerning consumers, and now they have one more reason to rejoice. The hit model has got a new color option. Black and green are complemented by a very nice gray.


What is Ganzo G7531
So, as already mentioned, the knife belongs to a variety of so-called EDC nicknames. It is characterized as traveling, has a folding design. Of the other external features immediately obvious at first glance, this is the shape of the blade. It's called clip-point. This type is very convenient for performing piercing operations, somewhat reminiscent of the well-known and widespread drop-point. You can perform many different practical tasks with a knife with a clip-point blade. This model will be very effective in tourism.
The smooth blade of the knife is made of sturdy steel. For this purpose, a 440C grade metal alloy was used. Steel 440C has a pretty good balance of price and quality. It is often used in knives and is classified as "above average". Such material resists corrosion well, keeps sharpening well, in addition, if necessary, it is easy to grind it. The hardness of steel grade 440C is estimated at 58 units on the Rockwell scale. This is a fairly high figure for knife products. The knife is adapted to the field conditions, and will perfectly cope with the tasks assigned to it.

The handle of the model is made of fiberglass. Material - G10. It is distinguished by its high strength and resistance to all kinds of external influences - temperature, action of chemicals, protected from damage and deformation. This material feels very comfortable in the hand. The convenient shape of the handle provides reliability and comfort during direct work with the knife. There is a sub-finger groove, and the knife is also supplemented with a lanyard hole. In order to be able to fix the model on a pocket, on a belt or on a backpack, manufacturers have provided a metal clip here.
The type of lock provided here is Axis lock. You can literally open the model with one hand. The lock provides the user with safety while working with a knife, and is highly reliable. Caring for him is mandatory, however, it is not particularly difficult.
Physical parameters of the knife
The overall length of the Ganzo G7531 model reaches 21 centimeters. When folded, the length is 12.1 centimeters. The blade is 8.9 centimeters long. The model weighs 126 grams. Blade thickness - 3.3 mm. It will be easy and convenient to use such a tool, it lies well in the hand, is lightweight, compact, can be carried with you and used at any time if necessary. The main purpose of the knife is tourism, outdoor activities, but it can also be used at home in everyday life. A practical knife does not require any special care; it should be cleaned in time and the blade sharpened.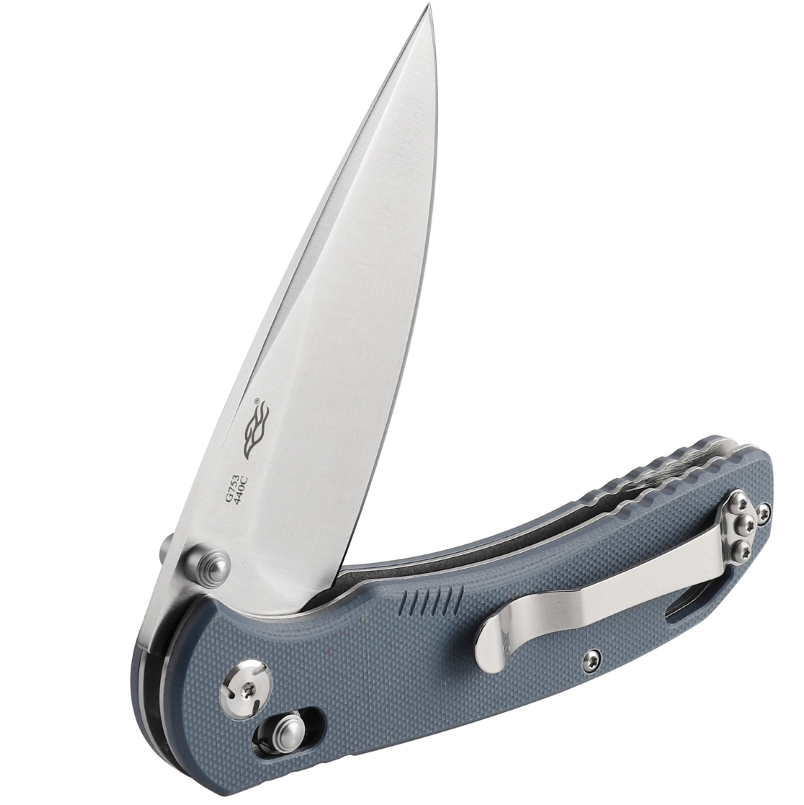 Findings
The color range of the Ganzo G7531 model knife has expanded with an additional gray color. Users already knew this hit tool in green and black versions. Folding knife with Axis lock. The blade is a universal clip-point type, made of 440C steel. A reliable and strong knife sharpens well, does not corrode, and is also undemanding in maintenance. With its help, you can perform various operations in everyday life, during outdoor activities, in the field. The compact size of the knife and its low weight are important advantages. The handle is based on comfortable and strong G10 material. The knife is secured with a clip. Its total length reaches 21 centimeters and weighs 126 grams.