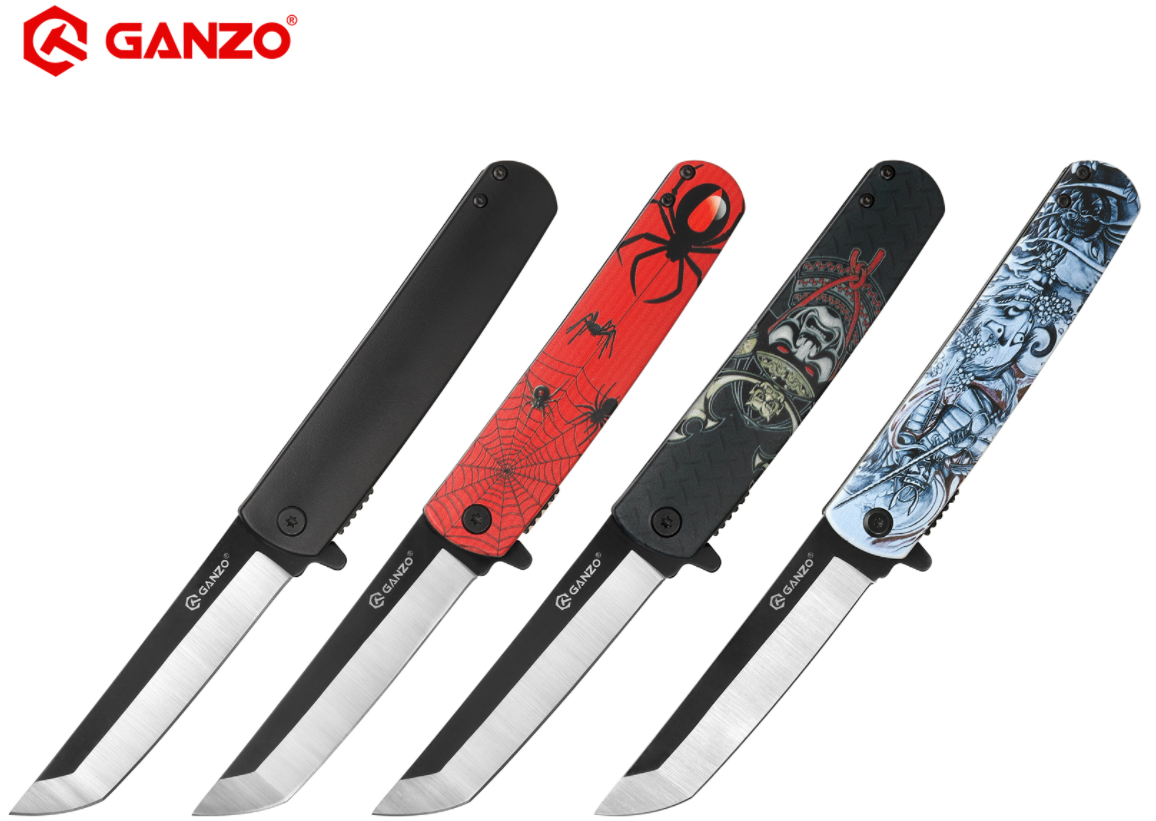 Customers already associate Ganzo with a decent quality of products and a price that satisfies a variety of categories of consumers. All this can be attributed to the novelty Ganzo G626-BK, which has already delighted knife lovers.
The Ganzo G626 knife model is interesting in that it is offered to users in four design options at once. This is a worthy choice for those who need to stand out from the crowd and have a functional and aesthetic knife with them. If you wish, you can take a model with a picture, or limit yourself to a simple black color.
Knife with a "tanto" blade. This variety is very convenient for stabbing movements when working with hard or dense types of materials. The model is extremely good for tourist activities and in general for different types of outdoor activities.
Therefore, if you were looking for a compact and practical knife for everyday needs, work and leisure with a stylish design, then this new product is what you need.
Design features
Blade steel used here is 440C. The material is highly durable, rich in carbon and chromium. The hardness of the metal alloy reaches 54 Rockwell units. The steel is hard enough but it is important to avoid excessive mechanical stress, otherwise the blade will break. The blade is fixed with a Flipper knife lock. This knife mechanism makes it possible to open and close the blade with literally one hand. The lock is effective and reliable, ensures safety when working with a folding knife.

As for the handle of the knife, it is a little unusual in shape - long, rectangular without any recesses for ergonomics. The handle to the knife is made of ABS plastic. This plastic is an impact-resistant technical thermoplastic resin. Resistant to low temperatures, it is also not afraid of heat. This is simply a salvation when it comes to using the product in outdoor activities and tourism. ABS plastic is adapted to different environmental conditions. It also withstands contact with chemical reagents.
It will be convenient to work with a knife, it is light, it will effectively serve you in such activities as hunting, fishing, hiking. The pocket format makes you always have a knife close at hand, the folding design is very practical. Traditionally, a rigid clip was provided here for fixing the model on a pocket, on a belt, on a bag or somewhere else. With it, the use of the knife is even more comfortable.
Knife dimensions and weight
The full size of the new knife is 21.6 cm. The length of the blade is 9.6 cm. Thus, the length of the handle reaches 12 cm. The thickness of the blade is 0.27 cm. And the compact specimen weighs 127 grams. Sharpening is straight, the color of the blade is slightly different from the color of the handle, it is gray, and harmonizes well with the handle.

The knife is effectively protected from the effects of corrosion, like other models of the brand, perfectly adapted to tourism. It is neatly made, looks good, inherits the best features of the Ganzo line models, and is designed for long-term operation. It is a pleasure to use such a knife, it is easy to clean, uncomplicated in appearance. All knives of the manufacturer are characterized by excellent flipping ability, and in operation they demonstrate strength, stability and endurance.
Сonclusions
So, the new model Ganzo G626-BK is an excellent representative of the well-known line of Ganzo knife products, stylish and modern, and its price pleasantly surprises. This knife has many virtues. First, the color - black is always in vogue and this is a practical design. Secondly, the compact size, there are no comments here, all Ganzo knives are very miniature, and easily fit into a pocket. Thirdly, high-quality 440 steel, well protected from rust, and perfectly adapted to work. The blade is of the "tanto" shape, which means that the knife is perfect for hunting, fishing and tourism. In general, this is a universal model, it is suitable for daily wear and will be useful in different situations in practice. The handle is made of high quality ABS plastic, resistant to environmental influences, and what could be better when it comes to a touring model. It is easy to open and close, the knife is safe to use, it looks very elegant and stylish, there is a clip for comfortable wearing. Lightweight, small, designed for long-term use.