What should be the modern EDC-knife? Comfortable, durable, practical and such that the owner liked the look. And the Firebird FH13-SS is quite suitable for all these requirements, especially if you like the brutal all-metal construction with a dark body and characteristic stone marks.

Design
Folding knife Firebird FH13-SS looks very original, without exaggeration. It has a minimalistic, precise and concise design. No extra parts, unnecessary inserts and incomprehensible drawings. Only a faint metallic luster, penetrating through a dark coating with a Stonewash treatment. Against the background of dark trousers or jeans, hidden in a pocket, the knife is almost imperceptible.
Handle and usability
In the hand of Firebird FH13-SS is not bad. Even more, due to the stainless steel handle there is a pleasant heaviness in the hand. The only nuance of the handle is its angular shape. Yes, they give it an original design. On the other hand, such a handle does not perform well in long-term use.
What does it mean?
This knife is perfect for the so-called "batoning" and other household tasks, where you need to quickly cut something or open it. But for long and time-consuming work with this knife, for example, for planning branches for a fire, we recommend to immediately put on gloves.
When folded, the Firebird FH13-SS takes up very little space, it can easily fit in a trouser / jacket pocket or in a small bag / backpack compartment.
Of the features of the handle, it is also worth noting a large plastic backspacer with a notch and a removable metal clip attached to one of the handle dies. By the way, it has the same color as the blade.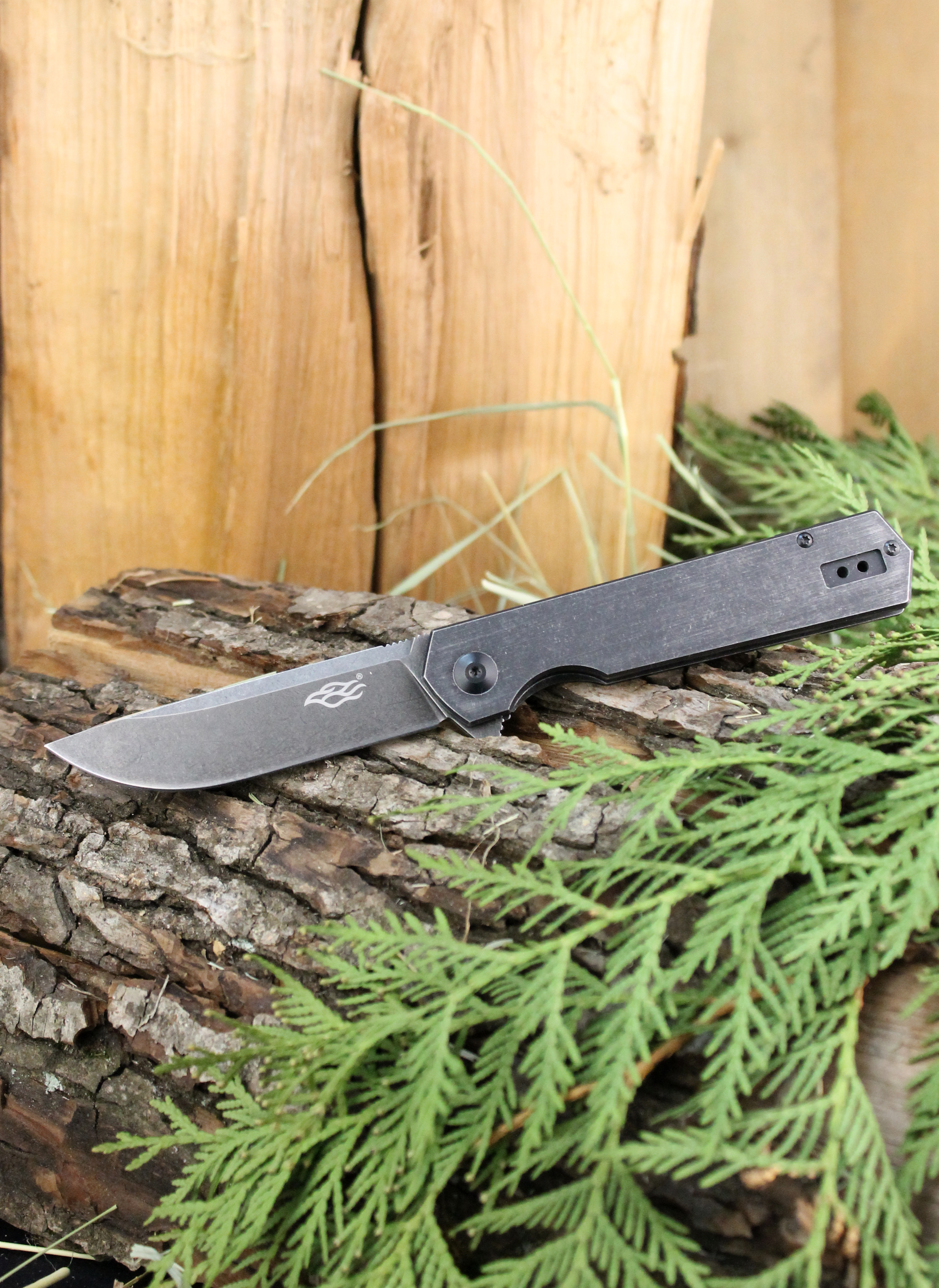 Blade
Folding Knife Firebird FH13-SS perfectly cuts fruits, vegetables, other products and various packaging. Even with wood, rubber and plastic, this knife copes "with a bang!", Despite the fact that it was not originally intended for such works.
Excellent cutting performance is due not only to the successful geometry of the blade, the shape of the blade Normal blade and smooth sharpening, but also the use of D2 steel. Thanks to the use of this material, the knife has excellent wear resistance and durability. This knife just does not have to sharpen often.
On the other hand, for its sharpening (when it will be necessary), without the proper tools in the form of a good sharpener, just can not do.
How to open a blade? With the help of an ordinary "fin". This detail is part of the blade and in the open position serves as a kind of guard, protecting the user's palm from accidental injury.
In the open form, the lock is fixed with the Frame-lock lock. This is a simple and reliable mechanism used in a wide variety of knives. He is not afraid of intensive use or heavy pollution.
Bearings
Yes, the Firebird FH13-SS folding knife has a rolling bearing system, thanks to which the blade, when you click on the fin, is removed almost instantly. So fast that the speed of this mechanism can be compared with Button-lock or another similar lock.
In terms of reliability, like any other system with rolling bearings, this one requires timely maintenance and does not tolerate severe contamination, especially sand.
Conclusion
As a result, Firebird FH13-SS is a simple and at the same time thoughtful folding EDC-knife, which is perfect for wearing in urban environments.
Nevertheless, even despite the shape of the knife handle, it is quite possible to use it during a hike or on a fishing trip. Firebird FH13-SS perfectly cuts absolutely in any conditions and holds a sharpening really well.
If you are looking for a universal tool for yourself - then this knife will suit you for sure. If you were looking for a cool and original design - too. Even as a gift this model will be very, very useful.
Is it worth taking?
Definitely, yes!